---



Highland Park
Ravinia Festival, June 25, 2010


Concert review & photos >>>



Storyteller Event
The Storyteller package is the latest VIP package being offered by Moody Blues Today. Depending on the venue, this event includes a stage tour, concert photo book, merchandise, a question-and-answer session with the band, and (if we're lucky) admittance to a soundcheck.

I purchased my ticket and package in April. In May, I received an e-mail from Moody Blues Today with instructions for submitting questions to the band. In early June, I sent in a list of 32 questions....some were serious, some were just for fun. I won't know if any of mine will be answered until they actually answer them. Any day now, I expect to receive my merchandise.

June 10: I received my merchandise in the mail today....one T-shirt, two pins, a patch, some guitar picks and the "Storyteller Gold" laminate, which I believe will be my "ticket" to the Storyteller event.

June 14: Today I received an e-mail from Moody Blues Today, consisting of final instructions and a waiver to print out and sign. We will meet our guide at the concert venue at 4:45 p.m. Our "Storyteller" laminate, a photo I.D. and the signed waiver will be required for admission. The waiver states that I agree to abide by the rules established by MBT, will not hold them responsible for injury or loss of property, and agree to have my name, likeness and statements used for promotional purposes. Cameras are allowed!
June 25: Not knowing how long it would take to get to Ravinia, I arrived well before 4:45. I found some other people sporting laminates and the same Moody Blues T-shirt that I received, so I sat on a bench and waited with them. Most of the people I talked to were not message board members, so they didn't know quite what to expect, apart from what had been described on MBT. Everyone was very excited!

After awhile, it was time to check in with Sari, the MBT representative who would be running the event and asking the questions. She handed each of us a manila envelope containing an autographed photo and our concert ticket. After this, we waited for quite a long time, and the sun was very hot. I'm not sure if we were waiting for people stuck in traffic or for the band to arrive....possibly both. During this time, we perused the merchandise booth, and those of us who "knew" each other from the message boards spent time saying hello to friends old and new.


Checking in with Sari
When it was time to begin, Sari rounded everyone up and we walked to the pavilion. The lawn was quickly filling up with blankets, lawn chairs, coolers and seasoned Ravinia picnic fans. We could hear the distant sounds of I Know You're Out There Somewhere wafting through the air. The soundcheck was beginning! We looked at each other and giggled as we heard Justin singing....instead of the regular lyrics, he was substituting "oh, oh, oh, oh" in a style that I can only describe as punk rock meets the Talking Heads. Impossible to put into words, and very silly!

We waited at the gate while the band finished the song, and then we were permitted to sit in the rear of the pavilion to see two more songs....The Voice and Lean On Me. They played each song straight through, followed by various equipment and sound adjustments. After each song, we clapped and cheered enthusiastically, as did the people sitting outside in the park, who could hear the soundcheck but couldn't see it unless they watched from behind the railing and a row of bushes.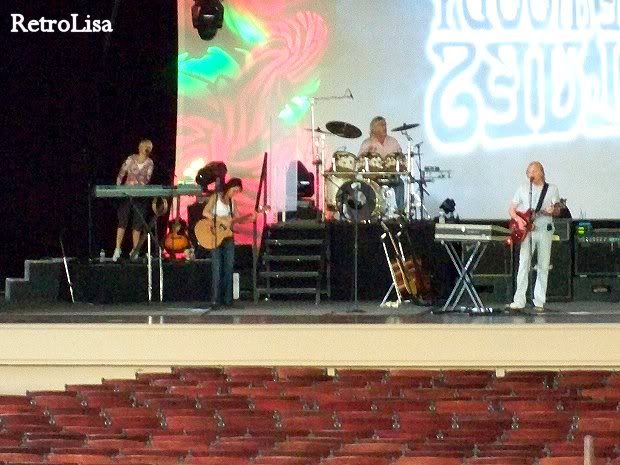 Watching the soundcheck


When the soundcheck was over, we moved forward and filled the first two rows of the pavilion. Crew members set up three chairs and placed a microphone on each one. The band members stood at the side of the stage....Justin was in a very good mood and smiled as he bounced up and down like a runner at the starting line of a race. Amidst applause and cheering, they took their seats and the "stories" began. Sari asked questions that had been chosen from those we had submitted earlier. I will do my best to recap the questions and answers as I remember them. I'd also like to thank Val from TER for jogging my memory on some of the questions and answers! (By the way, six of the questions were mine, but I won't elaborate on that!)



After traveling all over the world and staying at many old, quirky hotels, have any of you ever had a paranormal experience?
They said, not really, unless you count seeing Ray first thing in the morning! Justin recalled that they had once stayed in a really strange place called Dalhousie Castle in Scotland, which was supposed to be haunted. The dining room was in the dungeon with no windows, and they would lower people down into it. John told a funny story about staying in a very old, spooky castle in the UK that was full of strange noises. Ray's room was rumored to be haunted. He had a canopy bed, and in the middle of the night he knocked on John's door and wanted to come in because he was freaked out by something in his room. Something was causing the canopy to move....he had no idea that the air-conditioning unit was directly above it! Justin said they used to have a tour manager who would book them into hotels like that just to be funny....but he doesn't work for them anymore! He went on to describe Ray's room: it was in a turret with a spiral staircase inside the door, and when you knocked on Ray's door you could hear him say, "I'm coming!" ....lots of footsteps.... "I'm coming!" ....lots of footsteps....as he ran down the stairs to his door. "I'd rather have a Marriott!" he added.

Justin, have you ever considered having your Gibson 335 refinished?
Justin said no, he thought it was just fine the way it was. Guitarists generally don't refinish their guitars, he added. He did have it refretted, but he'd never have it refinished. Besides, if he did, what would he do? Choose another color? Graeme said "orange," which got a laugh from everyone, including Justin.

John, have you ever played golf with any of the current PGA players?
John said yes, he'd played with Greg Norman, Fred Couples and some others. He said the great thing about being a musician is that famous people keep inviting you to play golf! He said he played at Medinah the day before (which got a murmur of recognition from the mostly Chicago-area audience) and that it was a really lovely place.

Graeme, someone has invited you to a costume party....what will you dress up as?
Graeme answered this question by recalling a past costume...Henry the VIII. He said he won the contest, but since those outfits are meant for drafty old castles and not crowded parties, he got really hot. By the end of the evening, his costume had been reduced to just the tights, bloomers and a pair of suspenders!

What pets do you guys have these days?
Graeme started to answer this question first, and John gave him a sidelong glance and said, "Be careful!" This got everyone chuckling, but when Graeme said, "Well, I've got a cat named Pussy...." everyone erupted in gales of laughter. John especially couldn't stop laughing! Graeme went on to say he also had another cat named Dana. Justin said he was petless at the moment, but that he's a dog person. His daughter has a dog, he added. John said his son Christian has a great dog, an Australian Shepherd, and John likes it because it's just like having grandchildren....he can go to his son's house and play with the dog and then say, "It's your dog, I'm off!"





Graeme, is there still something you'd like to do that you haven't? A goal unfulfilled?
He said the one thing he wishes he could have done is go into space. Ever since the Apollo moon landing, he's been captivated by the idea of space travel. Back then, everyone figured there would be hotels on the moon by the 80s, so it seemed possible, but obviously he's never going to get a chance to realize that dream. But yes, he'd love to go into orbit.

Justin, why in Ride My See-Saw did you switch from the white Fender to the Telecaster?
He said he used the Telecaster when the song was recorded but used the Fender onstage in the early days of touring. He switched back to the Telecaster because it was the original "sound" of the album.

John, do you have anything taped to your refrigerator at home?
John said the only thing he had on the refrigerator door was the name of the refrigerator company!





Justin, do you have anything at home that you've saved all these years for sentimental reasons?
Justin said he has the stuff that everyone has....things from his parents, things from his daughter. He used to bring some of them on tour with him, but he had some things stolen in the 70s, so he doesn't do that anymore. He also mentioned having a small box with Gibson written on the side where he keeps guitar strings and things like that.

John, do you collect anything from the various cities you visit, like postcards or shot glasses?
"Diseases?" John quipped. After the laughter subsided, John said no, he didn't really collect anything. But sometimes if it's a city he's never been in before, he'll send his mother a postcard to let her know where he is, because she still thinks he's at home! He said it's really difficult accumulating stuff on the road because you're living out of a suitcase. For instance, it's always nice when someone gives you a bottle of wine, but then you've got to drink it! No, the only thing he collects on the road is air miles!

Graeme, what's the best Christmas present anybody ever gave you?
He said when he was about five or six, he received a red and white toy car with doors that opened and a "bonnet" - at this point he asked, what do we call it in America? "A hood!" we all said - and a trunk that lifted up. It was the first present he remembers getting, and still the best one.

Is it easy or difficult to sleep on the tour bus? Do you use your laptops on the bus and do you get motion sickness?
The three of them thought for a moment, and then Justin answered, "Umm...yes, no, yes..." Graeme and John joined in with "No, yes, no..." and "What was the order again?" It was quite funny! John then said it was impossible to sleep on the bus, because whenever you go around a bend, you are in danger of rolling right out of your bunk, which is why it's always good to get the bottom bunk. Graeme described how he packed himself in with pillows to make sure that doesn't happen.

What requests do you make of the venues you perform in?
Graeme said he had a few Red Bulls, some water and fruit....and there's a tub of honey he can't seem to get rid of. Justin also mentioned the fruit and water....and he still gets a coffee machine, which was actually a provision from their late manager, Tom Hulett. We were treated to Justin's impersonation of Tom's American accent...."Tom was always going around saying Where's the coffee? Where's the coffee?" It was never removed from the rider, so you can still have a cup of coffee in his room, but nobody ever comes! "But somebody might turn up!" he added. A girl from the audience called out, "I'll have coffee with you!" Justin said he'd be happy to have a cup of coffee with her! John said he likes to create a certain atmosphere in his dressing room, with fruit and candles. He loves berries, especially blueberries, which he says are very good for you. He says it's great to get a big bucket of ice, and he'll stick his hand in and feel around, and lo and behold, he finds a nice bottle of wine! "But it's for after the concert, of course!"